French Tomato and Mustard Tart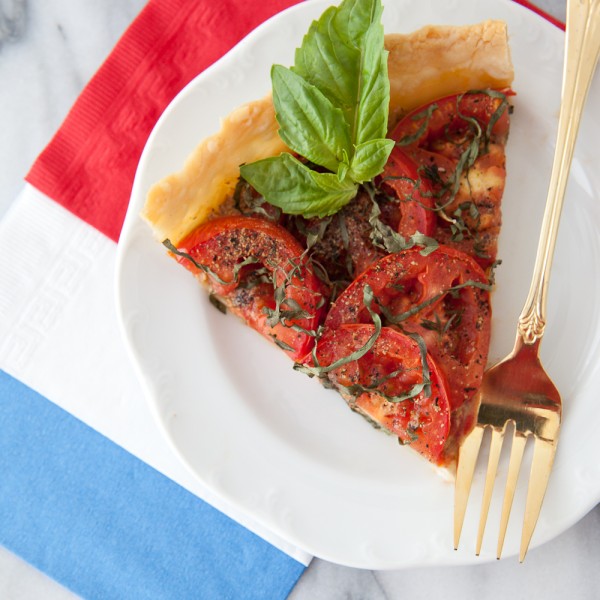 This easy "French Tomato and Mustard Tart" is the perfect light meal when served with a salad and a glass of crisp white wine.
For step-by-step instructions visit: http://foodevents.about.com/od/Food-Holidays/ss/Bastille-Day-Recipe-Tarte-a-la-Moutarde-et-a-la-Tomate.htm
Ingredients
1 Tablespoon Kosher salt
5 Roma or Plum Tomatoes, sliced
1 Ready Made pie crust, thawed
3 Tablespoons Dijon mustard
1 teaspoon ground black pepper
1 Tablespoon fresh thyme
6 basil leaves, chiffonade
Instructions
Preheat oven to 400 degrees F. In a large bowl, sprinkle salt over the sliced tomatoes and set aside.
Unroll thawed pie crust over a 9" tarte pan. Press into pan and poke with a fork.
Spread the Dijon mustard evenly over the pie dough.
Lay the tomato slices, one by one, over the mustard, starting at the edge of the tart pan first. Continue in a spiral until you reach the center.
Sprinkle with pepper, thyme and basil.
Bake in the oven for 25-30 minutes until the crust is browned.
Serve hot.
Notes
Adapted from "Tarte a la Moutarde et a la Tomate" in "The Everything Easy French Cookbook" by Cecile Delarue.