Guacamole Deviled Eggs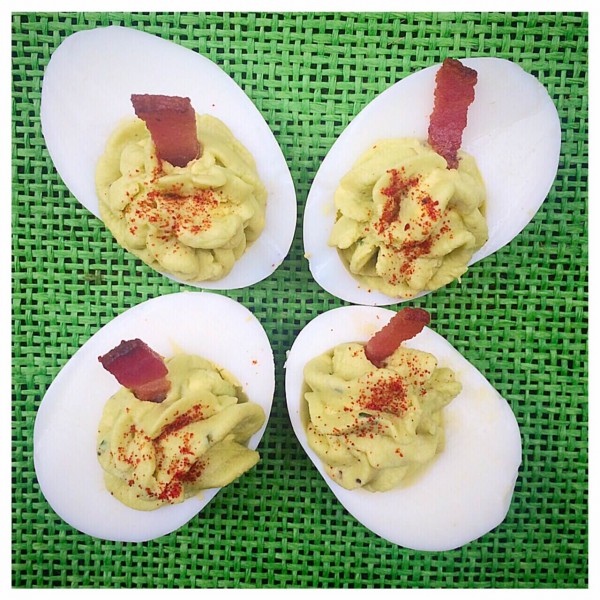 These guacamole deviled eggs are the perfect appetizer for any party. The avocado adds creaminess and reduces the fat found in most mayo-based deviled egg recipes. The addition of Maille Dijon mustard gives these eggs a familiar kick. Enjoy!
Ingredients
6 eggs
1 Tablespoon of chopped chives
½ lime, juiced
1 Tablespoon of olive oil
2 teaspoon of water
2 teaspoon of Maille traditional Dijon mustard
2 strips of crisp bacon, chopped into big bits
1 ripe avocado
salt and pepper to taste
sweet paprika for garnish
Instructions
To hard boil the eggs, place the eggs in a saucepan and cover with cold water.
Bring to a boil and remove from heat.
Let stand for 15 minutes.
Remove from the heat and let stand for another 2 minutes.
On the counter, crack the shells of the egg and carefully peel under running water.
Halve eggs lengthwise.
Pop the yellow yolks into a bowl and add in chives, avocado, lime juice, olive oil, mustard, salt, pepper and water.
Mash thoroughly until no big chunks exists.
Carefully refill each egg half with the avocado mixture.
Sprinkle with paprika and add a bacon chip bit to the top for garnish. Serve Immediately.
Notes
For an even prettier presentation, you can also use a pastry bag to fill the eggs, but this is not necessary.