Mann's Brocco-Noodle and Clam Bowl with Gremolata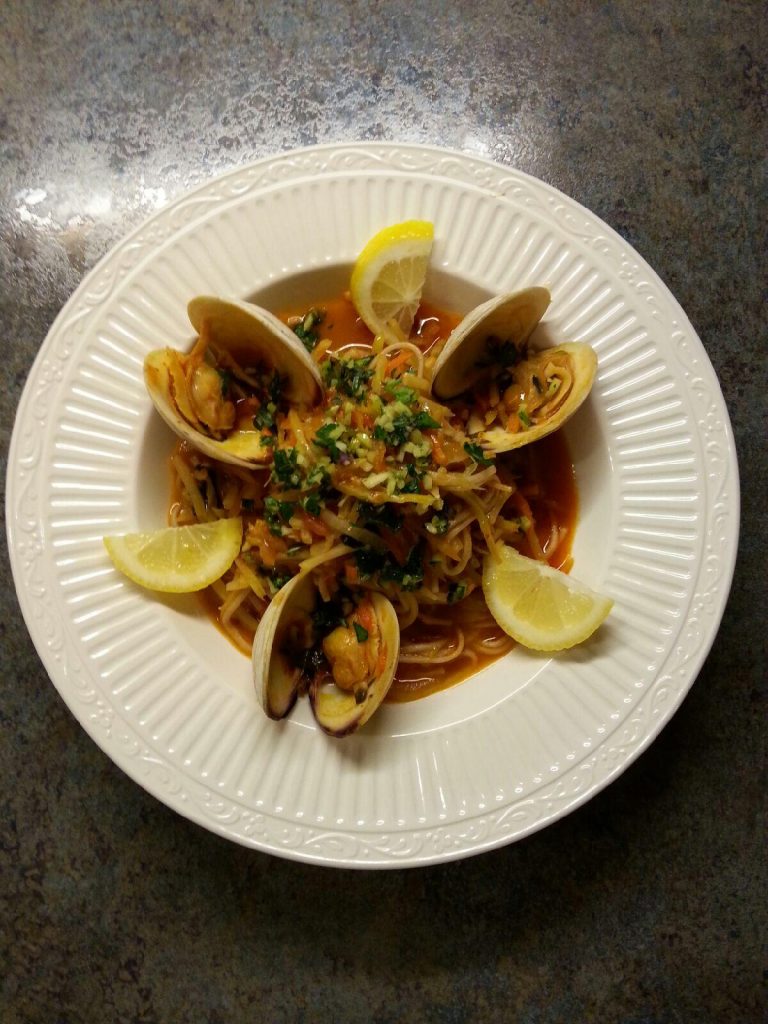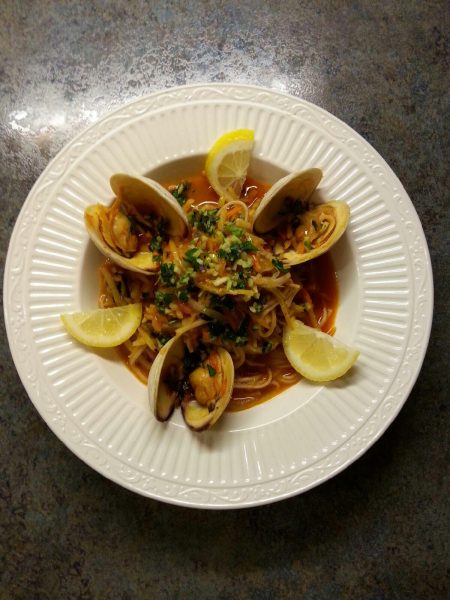 This delicious noodle and clam bowl comes to life with the addition of Mann's Broccoli Cole Slaw  with healthy Soba noodles. Twice the nutrition and taste in the Broccoli Cole Slaw Gremolata to top the dish! You'll never miss the linguine and feel full and satisfied with this crunchy and seasoned dish!
Ingredients
3 Tbsp EVOO, plus extra for drizzling
3/4 C Onion, thinly sliced
4 cloves Garlic, thinly sliced, divided
4 Anchovies, finely chopped
1/4 tsp Crushed Red Pepper, divided
1/2 C White Wine
12 oz bag Mann's Broccoli Cole Slaw, divided
1 C Marinara Sauce
2 C Low Sodium Chicken Broth
fine sea salt
2 oz Organic Soba Noodles
6 Tbsp Fresh Basil Leaves, divided
1 dozen Fresh Littleneck Clams
2 Tbsp Flat Leaf Italian Parsley Leaves
2 small Lemons, zested, cut into wedges
1/4 C Pine Nuts, toasted
Instructions
In a large skillet heat 3 Tbsp. EVOO over medium heat. Saute onion for 2 minutes until soft. Add 3 cloves garlic, anchovies, and 1/8 tsp. crushed red pepper. Continue to stir until the garlic is soft and the anchovies have melted into the oil for 1 minute. Pour in the wine and cook until the liquid is almost evaporated. Remove 2 Tbsp. of Mann's Broccoli Cole Slaw and place on a cutting board. Pour rest of slaw into the skillet and saute for 1 more minute.
Add marinara, broth, 1/2 tsp. salt to the pan. Raise heat to medium high and bring to a boil. Stir in soba noodles and 4 Tbsp. basil. Nestle clams into the sauce, cover with a lid and cook for 5 minutes until all clam shell have opened.
In the meanwhile make the gremolata. Pile 2 Tbsp. each of basil and parsley, 1 clove garlic, lemon zest, 1/8 tsp. each of salt and crushed red pepper onto the reserved broccoli slaw. Chop finely all together. Place in a small bowl.
To serve remove the clams onto a platter. Stir Brocco- noodle mixture, taste and adjust seasonings if desired. Spoon mixture into 4 dinner bowls. Top each with 3 clams, gremolata, drizzle of EVOO, pine nuts and lemon wedges. Enjoy!
Notes
Homemade or good quality marinara sauce is recommended that is not too high in sodium. Anchovies can be omitted if desired. Also, vegetable broth, clam juice or homemade stock can be used. I usually ask for a couple of extra clams at the fish market just in case they don't all open up. Discard any unopened clams!