Spicy Cucumber Bites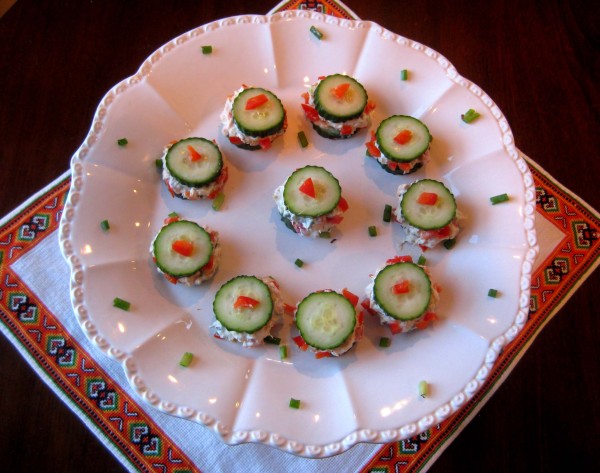 These tasty two-bite cucumber " mini- sandwiches," are not only healthy, balanced with herbs, spices, protein and veggies, but also, are a snap to make. They can be prepared in advanced and chilled, perfect as stress-free party appetizers, or simply for after-school or in-between meals noshing.
Ingredients
One 13-inch English cucumber, 1/8 inch slices
7 ounces garlic & herb (fat-free or reduced fat) cheese spread
2 medium red peppers, seeded, finely chopped, divided
1/3 cup finely chopped scallions, or chives, + for garnish
½ teaspoon Cajun spice blend (paprika, celery seed, garlic, cayenne, basil, parsley)
½ teaspoon red pepper flakes (adjust to desired heat)
¼ teaspoon sea salt
5 ounces skinless, boneless salmon from can or fresh broiled, flaked
Instructions
Cut cucumber into 1/8 inch slices. Set aside.
In a medium bowl, mix cheese spread, ½ of chopped red peppers, scallions, Cajun spice blend, red pepper flakes, and salt, until well combined. Add salmon, stir to blend well.
Spread scant 2 teaspoons mixture on each of half of the cucumber slices. Top with remaining cucumber slices., to make a sandwich.
Spread remaining chopped red peppers onto a small plate. Gently roll the cheese sides of each sandwich into chopped peppers.
Arrange on serving plate. Garnish with a sprinkling of red peppers and scallions. Cover with plastic wrap. Refrigerate until ready to use.
Notes
Salmon can be substituted with other ready to eat fish or can be completely without any fish. Instead of the Cajun blend, you can add some sriracha sauce.