Sweet Tea Brined Pork Chops with Maple-Bourbon Glaze
Posted in:
Grilling
,
Main Dishes
Tagged:
cherry
,
bourbon
,
chili
,
SummerGrillingRecipeContest
,
grilling
,
Tea
,
pork chops
,
maple syrup
,
sweet tea
,
Peach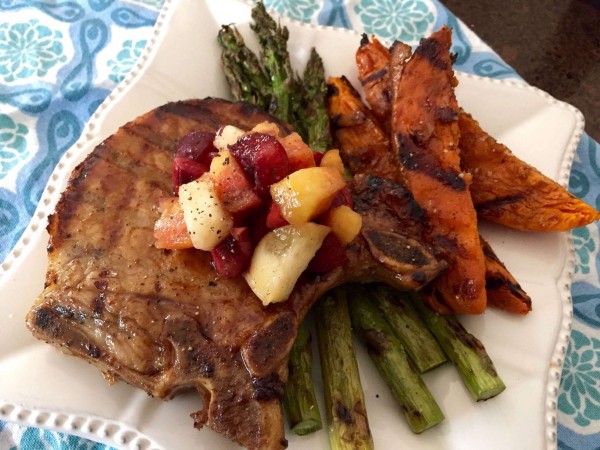 I love pairing fruit with grilled meat in the summertime. This dish really highlights fresh, ripe fruit and a decadent savory-sweet glaze on perfectly grilled meat. Sweet tea brined pork chops take no time to throw together the night before grilling. Enjoy the refreshing flavors of sweet tea, bourbon and maple in these chops with a modern Southern flair at your next barbecue!
Ingredients
For the brined pork chops,
1/2 cup boiling water
3 Tablespoons salt
1 cup ice
4 cups refrigerated sweet tea
1 Tablespoon Worcestershire sauce
4 large pork chops (bone-in or boneless, as desired)
1/4 cup maple syrup
1/4 cup sweet tea
2 Tablespoons bourbon
1 Tablespoon Worcestershire sauce
1 teaspoon chili powder
For the summer fruit relish,
2 ripe peaches, pitted and diced
3/4 cup ripe cherries, pitted and quartered
1 Tablespoon maple syrup
1 teaspoon bourbon
2 Tablespoons sweet tea
Instructions
In a measuring cup, stir together boiling water and salt until dissolved. Place ice in a 3-4 quart plastic container with lid. Add the hot salt water, sweet tea, maple syrup and Worcestershire to container. Submerge pork chops in liquid, seal with lid and place in refrigerator for at least 8 hours or up to 2 days.
To make the basting sauce, combine all glaze ingredients in small saucepan over medium heat for 8-12 minutes or until reduced by half and thickened until syrupy.
Combine all relish ingredients in a small mixing bowl, tossing to combine. Refrigerate until ready to serve.
Preheat gas or charcoal grill on medium-high. Remove chops from brine and dry well with paper towels. Place chops on well-oiled grill. Sear for 2-3 minutes, rotate 1/4 turn, and sear for 2-3 minutes more. Flip chops over. Baste top with glaze, repeating every 2 minutes until done in center (approximately 3-5 minutes). Let meat rest off grill (covered with foil) for 5 minutes. Top with a generous amount of fruit relish. Serves 4.
Notes
Chicken breast can be substituted for pork, if desired.
Sweet tea can be purchased at the grocery store in the refrigerated section, already brewed.
Grilled sweet potatoes and asparagus are recommended to accompany the meat, as pictured.
Relish and glaze can be made ahead. Perfect for entertaining!
8 hours Prep time is mostly inactive prep.