"Three Sisters" Side Dish with Bacon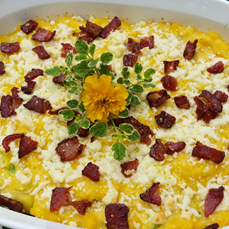 Native Americans call corn, squash and beans "The 3 sisters." I've cooked up a side dish with these ingredients and added just a little spice, along with the delicious smokiness of bacon.
Ingredients
2- 15.5 ounce cans beans (pinto,black)
1 teaspoon Ancho Chile Powder
1/2 teaspoon Chipotle Chile Pepper Flakes
pinch of salt
12 ounces thick cut bacon
1/2 cup chopped onion
1 pound mixed summer squash(yellow,green)chopped
2 cloves garlic,minced
2 medium tomatoes,chopped
1 tablespoon chopped fresh marjoram
salt and fresh ground black pepper
2 cups fresh or frozen corn
1/2 cup milk
3/4 cup chicken stock
1/4 cup cornmeal
1/2 cup grated Monterey Jack Cheese
1/2 seeded,minced Jalapeno Pepper
1/2 teaspoon salt
3/4 cup crumbled Queso Fresco Cheese
1 tablespoon extra virgin olive oil
Instructions
Spray gratin dish with non-stick cooking spray. Preheat oven to 375 degrees. Mash 1 can drained,rinsed beans. Drain second can, reserving about 3 tablespoons of the liquid and add to the mashed beans. Mash second can, leaving some of the beans in chunks. Season with the chiles and salt. Spread in gratin dish.
Cut bacon in 1-inch pieces and cook in large skillet until moderately crispy. Drain on paper towels and reserve 1 tablespoon of bacon fat. Wipe out skillet,return reserved fat and heat skillet to medium. Cook squash and onion until softened, about 5 minutes. Add garlic and tomatoes and cook 5 more minutes. Turn off heat and stir in marjoram and 3/4 of cooked bacon (reserve remainder for top of dish). Salt and pepper, to taste. (Some bacon is saltier than others,so there isn't a specific amount of salt here.) Spread the squash layer over the bean layer.
Add milk and stock to medium saucepan. Bring to a simmer and add corn. Cook 5 minutes. Stir in cornmeal, minced Jalapeno and salt and cook 5 more minutes. Remove from heat and stir in grated Monterey Jack Cheese. Layer over squash, sprinkle with reserved bacon and Queso Fresco Cheese. Drizzle with olive oil and bake 25 minutes.