Best of the Blogs Round Up – June
CCC is home to countless award-winning cooks, but also a ton of outstanding food bloggers!  I wanted to kick off the month of June with a round up of the most recent posts from our members.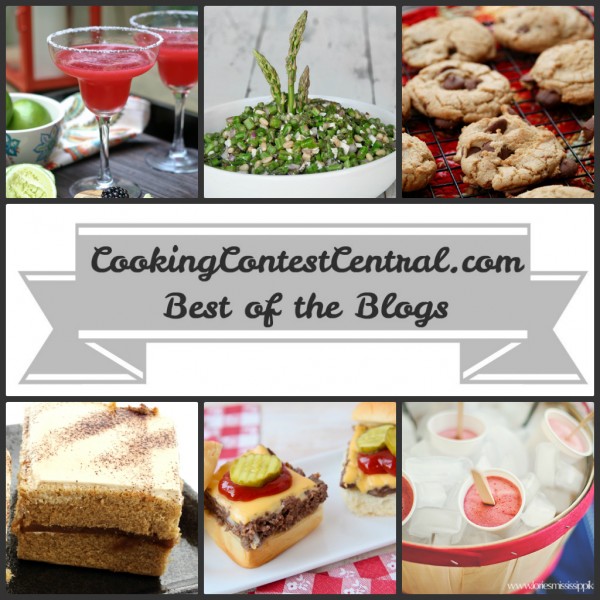 All of these folks are part of the "CCC Member Food Blog Network."  Not only do we support each others contest endeavors, we are also here to support creative food writing as well.
If you are a CCC subscriber who has a food blog and would like to join us, please contact us right away!

Life and Kitchen – Four Cheese Pizzaghetti
The Kittchen – Food and Travel
Everyday Maven – Blackberry Margaritas
She Paused 4 Thought – Asparagus Salad with Shallots, Pine Nuts, and Cheese
Oh My Doodle – Pillsbury Bake-Off Apron Pinspiration
Savory Table – Lemon Ginger Cooler
Live, Laugh, Cook, Eat – Quinoa:  The New Couscous (or Polenta, or Grits…)
Epicuricloud – Roasted Corn, Black Bean and Brown Rice Salad
A Harvest Moon Farm – Raspberry Sangria
Mississippi Kitchen – Strawberries 'n' Coconut Cream Pops
Hezzi-D's Books and Cooks – Fruit Salsa with Cinnamon Sugar Chips
A Communal Table – Kopanisti Dip
Peanut Butter and Julie – Almond Joy Hand Pies
Love and Onions – Celebrate
The Dutch Baker's Daughter – Kemps Family Traditions
Cooking with Joni – Easy Tropical Sherbet
NJ Cooks – 100 Year Party
Ally's Kitchen – Luscious and Creative Sandwiches
Dawn of Food – Kebabs
Baked Chicago – Cappuccino Brownies
Eat Your Books – A non-blobbly way to melt hard-to-melt cheese 
Sugar Mama – New Favorite Chocolate Chip Cookie
KC in the Kitchen – Croque Monsieur
Losing 100 – Turkey Burger with Garlic Mushrooms and Asparagus
The Vintage Cook – Golden Ticket Giveaway
Queen City Kitchen – Cinnamon Shortbread Cookies
Power Hungry – Grain-Free Cauliflower Tabbouleh
Hoopfinity's Happenings – Cheesecake Push-Pops
Good Food Michigan – Granola Recipe
Shannon's Shanonigins – Throwing a Celebration for Someone Else
Co Co Cooks – Arnett Farms
Getting Stuffed – Garden Couscous Salad
The Gluten-Free Maven – Salad Days
Mommie Cooks – Ginger Scallion Soup
A Bucks County Kitchen – Frozen Strawberry Daiquiris
Cookie Madness – Vanilla Gelato
My Kitchen Kreations to You – Roasted Eggplant, Mushroom and Tomato Salad with Feta and Balsamic Vinaigrette
Texana's Kitchen – Beans, Beans, The Musical Fruit
Snappy Gourmet – Strawberry Daiquiri Pie Pops
The Growing Foodie – Pasta with Corn, Thyme and Parmesan
Seasonal and Savory – Raspberry Semifreddo
Where to Eat Pancakes in Pigeon Forge – Elvira's Cafe
MK's Fabulous Food Adventures – Help improve MK's Recipe
The Culinary Cellar – The Real "Power Ball" Winner
Bibberche – This One Time, at Camp Blogaway…
In Erika's Kitchen – Ladies Home Journal Test Kitchen
Cheesy Pennies – Revival Tour
Food is Love – Watermelon Pie
Better Recipes – Easy Cheeseburger Sliders