Breaking Pillsbury News!!!
This is it… Time to get excited!!!
Pillsbury just announced news of the next Bake-Off on their website, Facebook, and Twitter pages.  Here are the links:
Pillsbury Website (with a countdown time clock!)
If you sign up for the notification it says there will only be THREE categories
http://www.pillsbury.com/BakeOff

Pillsbury Facebook – here it looks like they will be slowly rolling out the three category themes.  The first teaser mentions the "Amazing Doable Dinners" category.  They are looking for your best quick-prep pizzas, calzones, sandwiches and more!
https://www.facebook.com/Pillsbury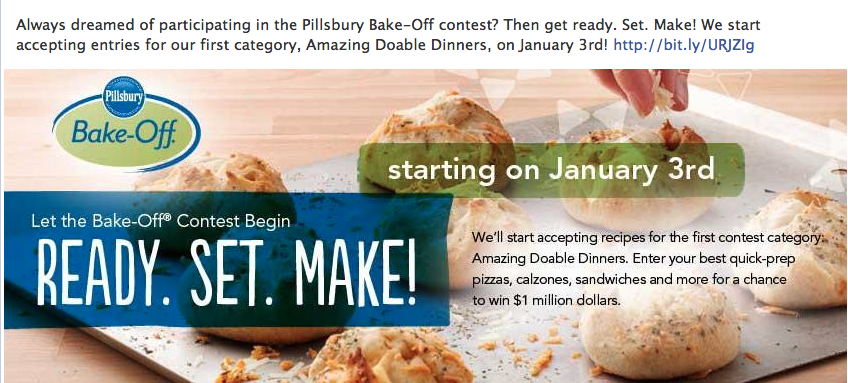 Pillsbury Twitter – they also teased the first category here
https://twitter.com/Pillsbury

I am so excited, I am about to jump out of my seat!!  CCC has brought home the million dollar prize 4 TIMES…will YOU be our next millionaire?!
If you haven't renewed your membership, this is the time to get in the game!  And if you are new to Cooking Contest Central, what are you waiting for, join in the fun today!  Annual subscriptions are only $25.  A drop in the bucket if you are going to win the $1,000,000 right?  😉
www.contestcooking.com/subscribe.html